Empire State Building
L'Empire State Building è un altissimo monumento art déco situato a Midtown Manhattan. Coi suoi 381 metri di altezza, è stato l'edificio più alto al mondo per quasi 40 anni, fino alla costruzione della North Tower del World Trade Centre nel 1970. Dispone di 102 piani, che accolgono la Sustainability Exhibit al secondo piano e la mostra Dare to Dream all'80esimo. All'86-esimo e al 102-esimo piano si trovano invece alcuni punti d'osservazione, dove potrai godere di una vista a 360° su New York e i suoi quartieri.
[hs_action id="623″]
Dalla cima, come affermato nel sito ufficiale (http://www.esbnyc.com/), potrai "sentire il cuore di New York".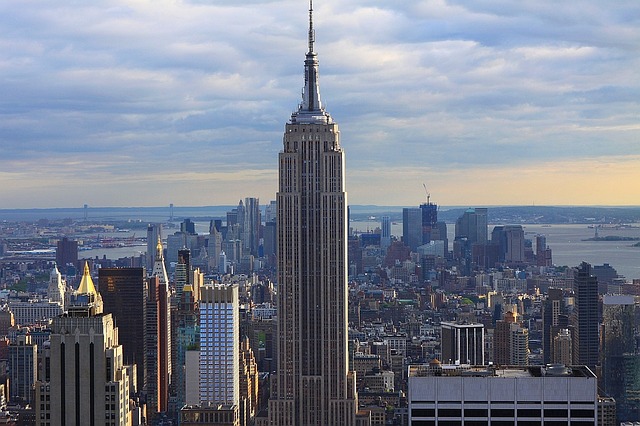 Orario di apertura
The Empire State Building is open to the public every day from 8am to 2am, including holidays. However, elevators going to the top close at 1:15am. For more information on the best time to visit, check out the Empire State Building Experience.
Come raggiungere l'Empire State Building
Guarda in su, non potrai mancarlo! Quando passeggi per la città, vai al centro di Midtown Manhattan, cerca la famosissima Fifth Avenue e troverai l'edificio tra la West 33rd e la 34esima strada.

CONSIGLIO PER LIVELLO INTERMEDIO: Mettiti alla prova prendendo un'audioguida in inglese. Se sei in visita con un amico, spingilo a fare lo stesso, così potrete discutere insieme in inglese le informazioni della guida.
Prezzi dei biglietti
Acquista i biglietti al centro visitatori dell'Empire State Building, situato al 2° piano oppure prenotali online tramite il sito: http://www.esbnyc.com/buy-tickets
Dopo aver acquistato il biglietto, puoi prendere un dispositivo multimediale che ti guiderà durante la visita, facendoti conoscere la storia dell'edificio. L'audioguida portatile è disponibile in molte lingue.
 [hs_action id="623″]
Comments
comments