Yiseul Song (Stella) who is taking EC Vancouver's General English course (Low-intermediate) joined EC Vancouver's Student Ambassador!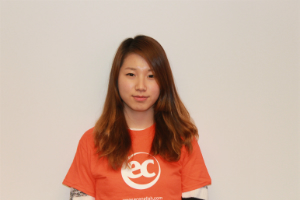 1) Tell us something about you …
Hi, I am Stella and I am from Korea. I have been living in Vancouver since last January. I like to make new friends that are from other countries.
2) Why you choose to be a Student Ambassador …
I chose to be a student Ambassador because I wanted to make new friends from different countries. I wanted my experience at EC Vancouver to be good, so I decided to be a Student Ambassador.
3) What is your job as a Student Ambassador?
As a student Ambassador, I search some activities for the students of EC Vancouver and I also help them.
4) In your opinion, what is the best activity at EC Vancouver ? Why ?
In my opinion, the best activity is tennis, because many people can join and play. If they don't know how to, they can learn ! My friends really like it !
=====
 Learn English in Vancouver! EC offers various English Courses, including TOEFL Course(s) in Vancouver.
Comments
comments