There is an annual race held on the first Sunday of May every year in Vancouver, British Columbia, Canada. As the largest international marathon event in Canada, it has a certified running distance of 26 miles and 385 yards long. The race started in 1972 when a small group of 46 runners ran five loops of Stanley Park to complete the first Vancouver International Marathon, known as Lions Gate Road Runners International Marathon.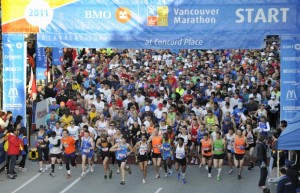 The marathon grew over the next few years from 300 participants in 1977 to around 5 000 participants this year. However, the event suffered a major setback in 1976 when a participant, Dr. Leslie Truelove, collapsed mid-race and died due to aneurysm. In Truelove's memory, the Dr. Leslie Truelove Memorial Trophy has been awarded ever since to the first male finisher in the 50+ age category.
The race will start at 8:30 am from Queen Elizabeth Park on Sunday, May 4th. Runners, their friends and everyone who wants can enjoy the Finish Line Street Festival with concerts, animations… Why don't you come to suppor t the participants and to take part of this amazing event?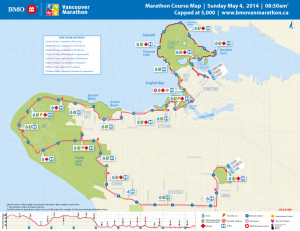 =====
EC offers various English Courses, including TOEFL Course(s) in Vancouver.
Comments
comments