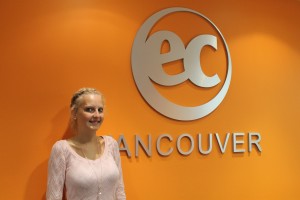 Hello everyone,
My name is Inna and I'm the new intern for EC Vancouver at the front desk. I'm going to stay in Vancouver for 6 weeks. I'm here to improve my English and to get to know a new job, new cultures and a lot of different, new people from different countries.
I'm 21 years old and I live in a small city in the south of Germany which is famous for its big wine areas and the black forest. Also it's very close to France. At home I'm studying economics in the 4th semester and work in a bank. There I have to communicate a lot with people, too.
If you have any questions or problems please visit me at the front desk and I will try my best to help you.
Cheers!
Comments
comments