It's the beginning of April here in Vancouver and thankfully Spring has finally sprung! In celebration of the end of winter, we at EC Vancouver, are organizing a lot of social and academic events to mark the return of the sun and the end of the dreaded rainy season.
EC Vancouver has just launched the ECAC (EC Activities Club). The ECAC , run by students and counsellors here at EC, will be hosting a variety of events, from movie nights to soccer matches, table tennis to games night, the ECAC will be open to any and all students. Last night we held our first event and it was certainly a success as students old and new gathered together to check out a film at the movie theatre.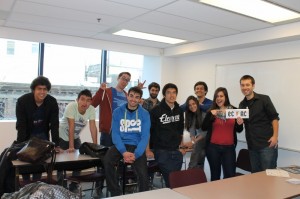 Academic workshops, seen in orange text on the calendar, gives everyone here at EC Vancouver the opportunity to study new topics completely free of charge. From the ever popular writing clinic to the heated conversation club, our workshops are an excellent opportunity for students of all levels. This month AY students will be treated to a 'History of Vancouver' from our seasoned vet Aaron Petovello and a lecture on 'Volunteering and Living in Rural Africa' from our CSR champion Craig Vandermeer.
EC Activities Calendar – April 2013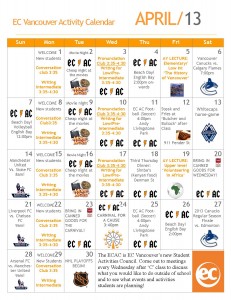 Comments
comments