Students at EC Vancouver have come together to create a social activities club, the ECAC! This club will give students the opportunity to be more active outside of school, will create a strong extra-curricular culture, and will provide leadership opportunities for those who want to assist in planning and managing activities.
The ECAC is a casual, extra-curricular activities club, similar to a high school or university student group designed to give students more to do, as well as help improve their experiences, outside of school.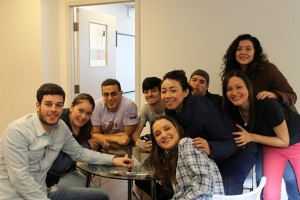 This past week we had our first meet-up; it was a huge success! 22 students came out to our inaugural planning session and actively participated. We discussed potential ideas and began an ongoing brainstorming session to be followed up on at the next meeting. From beach days to barbecues, soccer games to volleyball matches, students had a lot of ideas and demonstrated a lot of interest in the club. Tonight, students will be meeting up after their D classes to go and watch a movie at the Cineplex, just a few blocks from EC Vancouver. Tuesday night is half price night so not only is it a great opportunity to meet up but it's also a low cost event.
The ECAC meets every Wednesday after C classes to discuss and plan events for the upcoming week. All students are encouraged to participate in the club.
Comments
comments