Sakura trees also known as cherry blossom trees are known for their elegance and beauty. Unfortunately, they are also known for their short blooming periods: once open, flowers last from 4 to 10 days.
While last year the cherry blossoms failed to reach peak bloom due to unpredictable weather patterns, and the previous three years' peak bloom was reached in May; this year, thanks to the warm weather, it has progressed faster than expected and probably the Sakura trees are going to start blooming on Friday.
One week ago, the trees were on the cusp of stage two, but two days ago they were in a clear stage 5 of development, which means that a full bloom could occur within 4-8 days.
"Call it an Easter miracle, a sign of climate change or an answer to wishes of thousands of eager Toronto blossom fans… the revised dates for peak bloom are between April 21 to April 28, 2017."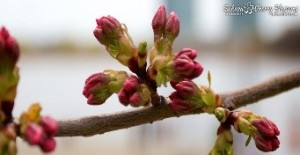 Comments
comments