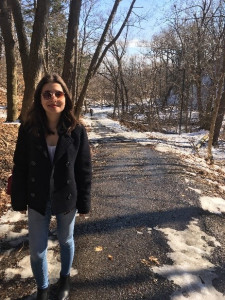 I'm Sibel from Turkey.
In May 2016 I decided to come to Toronto.
I chose Toronto because I don't know what other countries think about Canada, but in Turkey, Canada is known for its respects towards difference, its diverse range for all people, and its safety.
All of that is true. Take it from me!
Also, to improve my English, Toronto was totally beneficial for me because of its cosmopolitan culture.
And regarding EC Toronto, they are really great! The staff are so calm, always ready to help and I think this is the most important thing! Teachers are like friends rather than only teachers. Especially Aida, she's awesome!
Also because of EC Toronto, I made many friends from all around the world, like cute lady Liliana Saldaña.
I went to great places in Toronto, too, like Niagara Falls, Royal Ontario Museum, Scarborough Bluffs and the Distillery District. I also had the chance to watch a movie at the Toronto International Film Festival Cinema (TIFF).
Toronto was my first experience abroad.
Toronto Homestay English courses
Comments
comments