Can you imagine surfing under the roof? Try a surfing workout in Toronto!
SURFSET is new type of workout studio in the city, it uses surfing board during training and make our body resistant and fit. There are different classes of individual aims. For instance, "Blend" is the most popular course, uses an unstable surfing board and effectively trains your body mixing every class. Build focuses on muscular training. Some other courses also can be geared toward your goal. This unconventional way will attract and motivate you.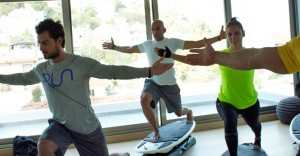 A drop in class will set you back $22, or you can choose for a five ($95), 10 ($180) or 20 ($330) class pass. If you think you'll keep training at Surfset for a long time, you can also get a 6-month unlimited membership for $720 or a year for $1260 – both come with meal and fitness planning. Continuous training makes you healthier, and surfset will make you feel summer much earlier. It's time to prepare for summer!
SURFSET (2481 Yonge Street, 2nd Floor Toronto, ON M4P 2H6)
HP: http://www.surfsettoronto.com/
Find out about learning English in Toronto.
Comments
comments