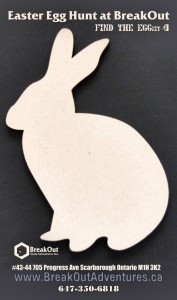 Have you ever tried escape rooms? Breakout team Adventure's real life escape room in Toronto is the largest in North America. In the escape room, you can enjoy different types of scenarios such as military story or mystery. Currently, there are two scenarios which is "The Liberty Squad" and "Hangover." In 60 minutes, participants need to run away from the locked floor by some clues hidden in the room. You can join with your friends, especially the military scenario makes you one team, so it will be fun for the people likes these things.
But now it's time to hunt treasure eggs! According to their site, Miss BreakOut Bunnies has hidden her the most precious Golden Eggs in the escape rooms. This limited events are from March 30th to April 5th, so  don't miss the chance.
HP: http://breakoutadventures.ca/
PRICE: $19.46/person
LOCATION:Unit 43, 705 Progress Ave. Scarborough, ON, M1H2X1
Let's enjoy the escape room after you learn English in Toronto! Of course in EC Toronto!
Comments
comments