Anyone who is in the High Intermediate or Advanced level can take Anthony's Media Studies class on Tuesday and Thursday afternoons as part of their General English 30 lessons per week program at EC Toronto.
And the best part is that they will be able to work on our What's Up EC? newspaper! Here is a sample of what was included in the December edition!
HOW TO SURVIVE YOUR FIRST WINTER IN CANADA?
As winter time is coming, I would like to put my knowledge to good use. Adapting to a new country always takes patience and time, so here there are some tips and tricks.
First of all, buy warm clothes. No jacket will ever be as warm as a Canadian one. You need to save money because winter clothes are not cheap. In contrast, the best way to keep your body warm is to dress in layers. Outdoors it is freezing but indoors it is often very warm. Forget about short skirts or low-rise pants and invest in sweaters, good socks and long shirts.
The cold also draws the moisture from the air as well as your body. It is not uncommon to find your hands, face and lips chapped. Your face (nose, lips and eyes) are exposed to the harsh winter elements like wind, snow, and sun. Prevention is the key! A nourishing lip balm is a must. However, not only does your face need care, your skin also gets dried, chapped and cracked. It is necessary to take care of your whole body.
Surprisingly, the weather can change very fast in Canada. First thing to do in the morning is check the forecast.  Sunny days can be extremely cold like -20c. Do not believe what you see beyond the window. Sunny days do not mean warm days. As well, make sure you check whether it is likely to snow during the day.
Some essential winter accessories are always useful. If you live in a house, make certain you have a shovel to dig your way out from home.  If not, you will be unable to get out of it. For sure, gloves, hats and scarves are indispensable.
To finish, I would like to give you some tips about the transportation. Whether you drive or you take the bus, you may need more time than usual because of snow storms or freezing rain. Leave home earlier to be on time for work, meetings or school.
Great work everyone! and our thanks to the team who produced this newspaper:
Guilherme Coutinho

Akinori Yoshida

Sooyeon Kim

Sojung Park

Daria Lopatina

Silvia Perez-Zamacona

Elisa Zhu

Gabriel Goossen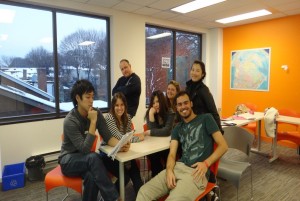 More to come so keep watching this blog!
And if you want to be a part of this and other exciting activities at EC Toronto, check our website: EC Toronto.
EC offers many English Language courses, including basic English courses in Toronto.
Comments
comments