WOW COOKBOOK – the ultimate international cookbook by EC Toronto students 
Can learning English be helpful for someone other than you?  At EC Toronto this happened!
EC is a melting pot of different cultures, and one of our classes (World of Words) did an interesting activity coordinated by their teacher Peter. Students participated in writing up a cookbook full of delicious recipes and appetizing tips from their countries of origin. They only needed 3 afternoon classes to conceive this project, write the original recipes correctly in English and organize the cookbook!
But these tasty recipes (such as Venezuelan main courses, Brazilian sweets and cocktails, Korean traditional meals and typical Colombian coffee) were not only ready to be read and cooked by other EC students: the class decided to sell copies in EC's corridors to help starving children all around the world! All the proceeds from the sales went to UNICEF Canada and Sharon Avery (Chief Development Officer) thanked Peter and his students for their co
operation. In fact, collected funds are not the most important aspect of EC's activity: what UNICEF needs is to be promoted as much as possible, and we can help the association to be more successful! How? Check out the guidelines Sharon Avery of UNICEF wrote back, posted at the Front Desk on the 4th floor.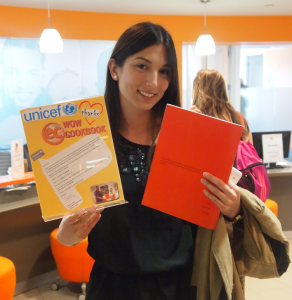 A big thank you to everyone who participated in the production, promotion, sales and generally made this project a big success! Also, thanks to EC Toronto and Print Three for covering the printing costs so all funds collected could go directly to UNICEF.
CREDITS: Carlos Jose Delcristo Luces, Paula Correa Dantas, Naeun Kim, Yuri Shibamoto, Ece Evliyaglu, Hsiangyun Fang, Gineth Maritza Carrana Roa, Bora Kim, Yurika Miyoshi, Steffen Rosenlocher, Sejin An, Kristiane Grizotto Chacon, Jiyeong Kim, Jihea Kim, Chul Kim, Cho-Hee Hwang
Comments
comments