This week Suzanne has joined the EC team here in Oxford!
Here's a bit about her…
"Hi, my name is Suzanne and I'm from the Netherlands. I'm in my third year of the School of Translation and Interpreting and I would like to become a subtitler. I'm doing an internship in England for 5 months to improve my English and to learn more about the British culture. I'm happy I was given the opportunity to work at EC Oxford. The people are very friendly and Oxford itself is a great place to be. The city has a lot to offer. There are many beautiful colleges, where famous people like J.R.R. Tolkien, Hugh Grant and Bill Clinton have studied. You can also visit museums, parks or go punting on the river, a popular activity in Oxford.
Oxford is also ideally located for visiting other interesting places, like Bath, where you can walk in Jane Austen's footsteps and visit the Roman Baths, Stratford-upon-Avon, Shakespeare's birthplace, the Cotswolds with its beautiful villages and not to mention London.
I hope you will have a great time here and if you have any questions, feel free to come and ask me at the reception."
Enjoy your stay at the school! 🙂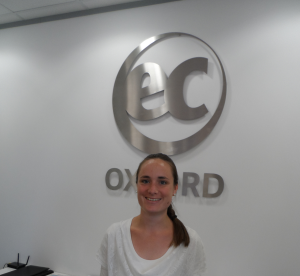 Comments
comments