Following the post on our student Hyunsu, below you will find more information about the instrument she plays. The Haegeum is a popular traditional music instrument in Korea.
"The haegeum is a two string bowed fiddle used to contain all eight materials of pal eum (eight timbers).
It has a neck with two tunning pegs. The neck passes through a tubular resonator of bamboo or hardwood as its base.
A wooden soundboard is glued to the front of the resonator and a small bridge stresses two twisted silk strings over this soundboard.  A horsehair bow passes between the two strings. It is attached by a metal cap to one end of a flexible bamboo shaft.
It needs to be applied regularly to the bow, working it in both directions  and keep the bow lightly stretched to increase friction on the strings.
That sound like pure and mournful. Even though not many foreigners know a lot about Korea, they do love Korean music".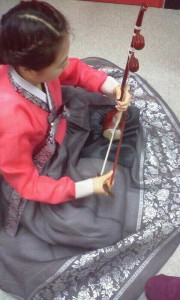 Comments
comments