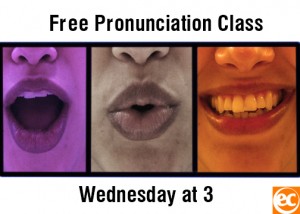 Having trouble with one of the trickiest elements of studying English ? Even if you're doing incredibly well in all your other skills, improving your pronunciation can feel nearly impossible.  Some sounds literally feel impossible for your mouth to produce.
We hold free Pronunciation Classes every month where you will get personalized attention and work on specific problem areas of English language pronunciation.
So see you then!
Note: These free classes are only for students who are currently enrolled in an English course at EC New York.
Comments
comments