Independence Hall is the centerpiece of Independence National Historical Park located in Philadelphia, Pennsylvania, United States, on Chestnut Street between 5th and 6th Streets. It is known primarily as the location where both the Declaration of Independence and the United States Constitutionwere debated and adopted.
The building was completed in 1753 as the colonial legislature (later Pennsylvania State House) for the Province of Pennsylvania. It became the principal meeting place of the Second Continental Congress from 1775 to 1783 and was the site of the Constitutional Convention in the summer of 1787. The building is part of Independence National Historical Park and is listed as a World Heritage Site.
Independence Hall was built between 1732 and 1753, designed by Edmund Woolley and Andrew Hamilton, and built by Woolley. Its construction was commissioned by the Pennsylvania colonial legislature which paid for construction as funds were available, so it was finished piecemeal. It was initially inhabited by the colonial government of Pennsylvania as its State House, from 1732 to 1799.
The hall is a red brick building designed in the Georgian style. It consists of a central building with belltower and steeple, attached to two smaller wings via arcaded hyphens. The highest point to the tip of the steeple spire is 168 ft, 7 1/4 inches above the ground. The two wings were demolished in 1811–1812, though these have since been reconstructed.
Two smaller buildings adjoin the wings of Independence Hall: Old City Hall to the east, and Congress Hall to the west. These three buildings are together on a city block known as Independence Square, along with Philosophical Hall, the original home of the American Philosophical Society. Since its construction in the mid-20th century, to the north has been Independence Mall, which includes the current home of the Liberty Bell.
The bell tower steeple of Independence Hall was the original home of the "Liberty Bell" and today it holds a "Centennial Bell" that was created for the United States Centennial Exposition in 1876. The original Liberty Bell, with its distinctive crack, is now on display across the street in the Liberty Bell Center. In 1976 Queen Elizabeth II visited Philadelphia and presented a gift to the American people of a replica Bicentennial Bell, which was cast in the same British foundry as the original. This 1976 bell hangs in the modern bell tower located on 3rd Street near Independence Hall.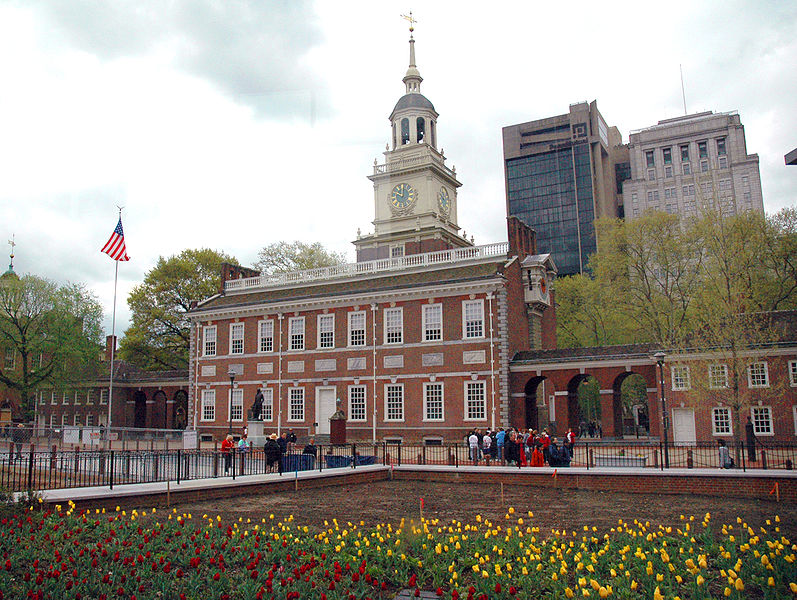 Comments
comments