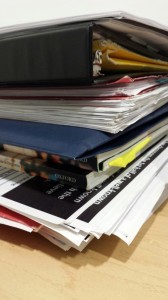 Next week in the United States is Labor Day.  This is a day that is set aside to celebrate the workers of the United States.  Traditionally, it falls on the first Monday of September.  This marks the end of Summer for us, and the back-t0-school time for students around the country.  After a three-day weekend, it's back to the same old grind.
For many of us, it is difficult to get back to the same old grind on Tuesday. A long weekend gives us time to relax and recharge — but returning to the same old grind the next day can be a little difficult, and many of us bemoan having to wake up early again. Having to return to work. Having to do the same routine that we always do.
If you figured out that "back to the same old grind" was an idiom for "returning to the usual work routine," then you're right! Another common idiom that we use in American English. Students that are preparing for their TOEFL or Cambridge ESOL Examswould be wise to remember it!
Comments
comments