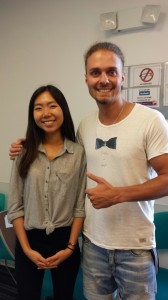 Every month students are given an opportunity to attend a college-style lecture given either by one of our teachers, or by an invited member of the community.  Over the time since the EC Miami English School has been open, we have had many students learn about varied subjects.  One constant, however, is in November when Thanksgiving is discussed.  This year, two lectures were given to students in different academic levels.  Students wrote about the lecture they attended, and then one winner from each group was chosen.
From the Pre-Intermediate class, we have Evgeniy Evseev from Russia:
Thanksgiving is a national holiday. This holiday means that all people give thanks for God .
In 1620, the Mayflower sailed up to the "New World" — America, where there lived Native Americans whose were "Indians".  When pilgrims were exploring the new world, Indians helped them with food, clothes, and medicine.  The first Thanksgiving was celebrated by the pilgrims and Indians together.  But later, the pilgrims decided that this territory belong to them.  Certainly the Indians didn't agree and the war began.  As a result pilgrims won the war.  In 1863, Lincoln made Thanksgiving official.  This holiday is celebrated every fourth Thursday.
In our days, Thanksgiving is usually celebrated with family at home.  A lot of people cook special holiday dishes like green beans, turkey, sweet potatoes, pumpkin pie, and turducken.
The next day after Thanksgiving is "Black Friday".  Then day when sales start and people buy everything that they want.
Comments
comments