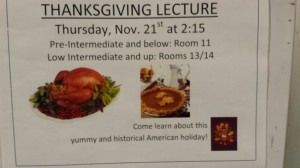 It's that time of year! The time that Americans get together with family and friends and eat. And eat. And Eat. AND EAT!! It's Thanksgiving!!!
Of course, there is more to Thanksgiving than just food — but for some of us the food is what makes it one of the favorite holidays in the United States. Families will prepare for days in advance for the feast that comes up, and the Thanksgiving holiday is one of the busiest travel days of the year!
Tomorrow, November 21, Reese and Sheila will be giving lectures to the students about Thanksgiving. Higher-level students and those that are getting ready for their Cambridge ESOL Exams will meet with Sheila, while lower-level students will get all their Thanksgiving information from Reese. All students are encouraged to go — and then prepare a Thanksgiving dinner of their own!
Check back here after the holiday to see which students turn in the best essays about Thanksgiving. There will be two winners chosen!
Comments
comments