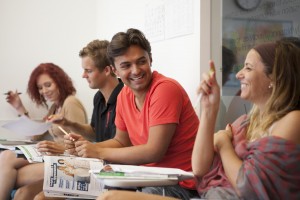 Did you know you can prepare for the TOEFL at EC Miami? Our Miami TOEFL course starts every Monday so you can join us at any time during the year. Choose the 4-week or 8-week option of 30 lessons per week (22.5 hours). On this course you will improve your speaking, listening, writing and reading. We will ensure you get the best result possible.
The TOEFL is an important test to take if you wish to study at an English-speaking college or university.
The minimum level required to take this course is Upper Intermediate.
Improve your level with plenty of core English training, at the end of your course your exam results will reflect a significant improvement in your reading, writing, speaking and listening. You will learn:
methods and strategies for successful integrated and independent writing
the skills needed to speak confidently and succeed in a one-to-one interview
listening strategies such as listening for gist and for detail
skim reading for meaning, scanning for detail, paraphrasing, making inferences, and more
Perfect your exam technique
On this Miami TOEFL preparation course, you will learn the valuable exam skills needed to meet
or surpass your expected result. Using sample papers and with continuous practice of specific
tasks, you will become familiar with the exam you are taking and learn how to answer the questions as effectively as possible. Reach your linguistic potential. Gain an international qualification to prove it! Take TOEFL in Miami!
Contact us for more information on this course.
Comments
comments