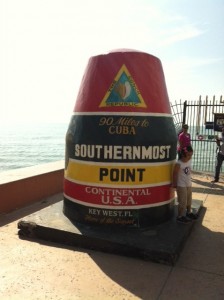 Have you been to the beautiful Florida Keys yet? Many of our students look forward to going to Key West during their time in Miami, but not many EC Miami students know what to see or where to go when they get there. For example, many people think that there are long, beautiful beaches in Key West, but this is not really true. There is a beach, but this is not necessarily the city's main attraction. Another important thing to remember about the Florida Keys is that it is about a 3 hour drive away. The best way to get there is by renting a car if you want to stay for a few days or by taking our tour with Half Price Tours. If you decide to take the bus tour, you can always rent a scooter or bikes when you arrive in Key West to get around. There are many things to do in Key West but here are the five most popular things according to the EC Miami staff.
1) Go to the Southernmost Point. This is the place that is the most south in the U.S. There is a special location that has the distance to Cuba and many people go to get their pictures with this sign.
2) Go to watch the sunset at Mallory Square Dock. This dock has a sunset celebration every night with performers, art, and music. The sunset from Key West is a beautiful site.
3) Go to Duval Street and bar hop or try one of the many restaurants. Duval Street is famous for being a party street in the evening and you will definitely meet some fun people and find some exciting bars and dance areas.
4) Go to Ernest Hemingway's house. Ernest Hemingway lived in Key West for awhile and loved the peaceful lifestyle of the Keys. Many visitors go to his house to do something historical and different while they are in Key West. His home is located in the Old Town of Key West so it is very interesting to see the old architecture of the neighborhood.
5) Go snorkeling or try another water sport. There are many opportunities to go on boat trips and this is the best part of Key West. Many of our students have enjoyed seeing the amazing reefs with colorful fish during their underwater adventures.
You can always ask at the front desk for more information about Key West and the tours that EC Miami offers. Have fun!
Comments
comments