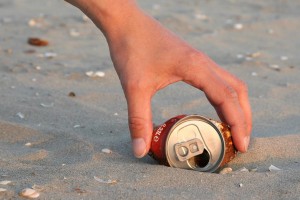 EC's Giving Back Day might be over, but there are always more possible opportunities to volunteer and contribute to the community. This weekend is especially a good time to volunteer for the environment because it is Earth Day.
This Saturday, Jenny will be leading any interested students on a beach clean-up starting at 2:30 p.m. and continuing for a few hours. In Miami, most of us spend a lot of our free time on the beach and it's never nice to sit on a dirty beach. So, instead of sunbathing this weekend, why not spend a few hours, making the beach look nicer for the next time that you go there?!
In addition to beautifying the beach landscape by picking up trash, the group of volunteers may also be working on dune restoration. Dunes are the sand piles near the back of the beach and it is important to keep them in their natural states.
Another advantage of attending this event is that, similar to last weekend, it will not only be EC students attending. The event is free and open to the general public, so there will be many opportunities for you to interact with native English speakers in the area.
If you are interested in attending the Earth Day beach clean-up, sign up at the front desk by Friday afternoon. We look forward to seeing you there!
Comments
comments