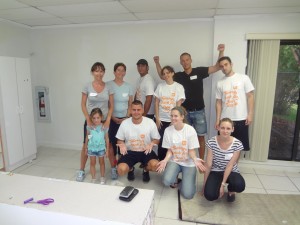 Our Giving Back Day at Villa Lyan on Saturday was a huge success. We were SO happy that our students, staff, and teachers woke up early and braved the pouring rain for this good cause. We spent the day working with other volunteers in Miami on a city-wide community project called City Serve and we met some amazing locals who were also volunteering their time. Our day was filled with priming the walls of a special needs school and beginning to paint as well. In addition to the manual labor, we were able to meet some of the differently-abled children at the school and interact with them over lunch and arts and crafts. We asked some of our student participants to tell us what they thought about the day. Here are their opinions, in their own words about the volunteer opportunity.
Rachel, France
In all the EC schools across the world, this day was special because we can do something for the others as volunteers. So that, here in Miami, I experienced the way how Americans people helped each other and it was really interesting because it's not the same in my country. We painted the walls in a school for disabled children. So we gave them a little of our time and our modest contribution for them and their parents. There were a lot of people and we painted all together and we shared some sandwiches, chips, candies,… I came with my friend and her 4 years old daughter. The little girl made some art crafts with other kids and I think that it was an interesting experience for her too. I encourage every student to experience that special day in an EC school.
Olga, Russia
The giving back day was the most unexpected experience during my studying at EC. I support the idea at volunteerism all over the world and try to learn all the sides at US life living here in Miami. Of course, painting is not as interesting as Orlando parks or the Everglades, but we met a lot of people there and altogether we did a lot of work for this school. That's cool!
Comments
comments