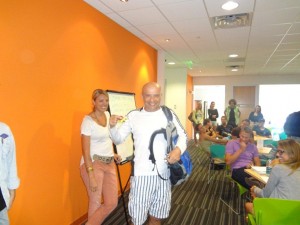 EC Miami has decided to congratulate one person every week at our graduation ceremony for being an outstanding English speaker. We would like to recognize and show our appreciation to the person whom the staff believes has made a serious effort to speak English in all situations. From now on, this person will receive a gift certificate to a local business. Congratulations to our first two winners – Martin from Germany two weeks ago and Alex from Bulgaria last Friday!
Martin is a great example of a person who worked hard to speak English all the time, even though he could have spoken German with his close friends. Alex is another good person to try to be like because he has no chance to use Bulgarian here, so he always challenges himself to speak English more and more.
We know that it might be difficult to avoid speaking your native language with your friends here in Miami, but it is very important that you try to speak English at all times while you are here. After all, you're here to learn English, right?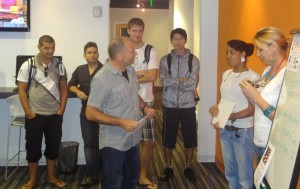 For the first two weeks of our outstanding English speaker competition, the staff talked together and chose the winner, but from now on, we will be using a system similar to some of the other EC schools. Teachers will give tickets to students who they hear speaking English when they could be speaking another language outside of class. The tickets will be entered into a raffle and the winner will be chosen on Fridays. Keep speaking English and you could be our next winner!
Comments
comments