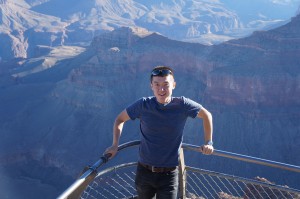 I was born in Jumunjin which is small sea side town in Korea. When I was baby, my parents were busy so I had raised by my grandmother. My grandmother loved me so much than any other grandchildren and even her children so I loved her too. She passed out when I was 10 and it was the most heartbreaking memory for me.
When I was a child, I used to hang out with children who lived in my neighborhood. We played together from the morning to the sunset and it was the happiest time in my life. Also, I was a really nice and smart boy. I used to be shy but I didn't lose my confidence because I always got good grades in my schools.
I spent a lot of my time in Seoul because I went to university there. Looking back my life in college, I always struggle not to be lonely. I was so lonely, frustrated and poor. However, after I took a trip to USA, I hoped that come to US again and learn American culture. So I studied hard and passed WEST program which is supported by Korean government. So now, I'm learning about America.
My dream is having a good family. My dream changes from time to time and it's my dream for now. I want to be a good husband, good father and good coworker. I want to be balanced in my life and help people around me without greed.
-David
Come learn basic English classes in Los Angeles, and meet David!
Comments
comments