So it's "Spring" apparently, although you wouldn't know it from the weather.
Spring is a time of new life and change, and we at EC Bristol are no different.
Therefore, we are having a Spring Fayre (or festival), to get everyone together, have some fun and raise some money for charity.
Spring Fayres/Fetes are very typical in England, with all sorts of small games and prizes to be won, but the focus is on FUN!
So this Sunday 21st April, we have a school event, with lots of activities and fun to be enjoyed. It will be held at the school, and will start at 11:30. Activites are inside and outside on Queen Square.
Amongst the fun there will be:
Cakes made by teachers! (but please bring cakes / sweets if you can cook!)
Tug-of-War!
FIFA Tournament (on the interactive whiteboards!)
The Human Fruit Machine!
Throw the Wellington Boot the Furthest!
Face Painting!
Music from Louis, one of our teachers!
Throw water bombs at Kyle, one of our teachers! (who will be tied to a tree)
Kick the Football at Teachers bottoms!
An Auction of Teacher's "Services…"
and many more
So come along and have a fun day with your friends and also the staff at EC, and let's try and beat the £314.77 we raised for charity last year! 😀
The money raised will be donated to the charity SHELTER, http://england.shelter.org.uk/.
Please have a look below at our 2012 Spring Fair pictures: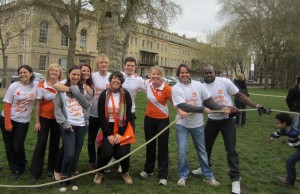 Comments
comments