Hi everyone,
How's it going?
This month the school is offering brand new activities such as a Quiz, Badminton and Dinner & Conversation.
Badminton is a racquet sport played by either two opposing players (singles) or two opposing pairs (doubles), who take positions on opposite halves of a rectangular court that is divided by a net. Since 1992, badminton has been an Olympic sport with five events: men's and women's singles, men's and women's doubles, and mixed doubles, in which each pair consists of a man and a woman. At high levels of play, especially in singles, the sport demands excellent fitness: players require aerobic stamina, agility, explosive strength, speed and precision. It is also a technical sport, requiring good motor coordination and the development of sophisticated racquet movements.
Dinner & Conversation is an activity very similar to Tea & Conversation (every Monday morning at 09:30). However, you won't drink tea and eat biscuits but you will go and share a great meal in a chosen restaurant and have a conversation in English. Our EC Activity Leader will make you exercise your spoken English in a fun atmosphere.
Library
The library at EC Bristol has now moved to our brand new 4th floor. So, if you would like to borrow books or DVDs, please come up to the Library between 12:35 and 13:00 and choose what you want.
Bristol & Harbour
What do you know about Bristol and the Harbour? Not much? well read the following to find out:
Bristol grew up on the banks of the Rivers Avon and Frome. Since the 13th century, the rivers have been modified for use as docks including the diversion of the River Frome in the 1240s into an artificial deep channel known as "Saint Augustine's Reach", which flowed into the River Avon. Saint Augustine's Reach became the heart of Bristol's docks with its quays and wharfs.
As early as 1420, vessels from Bristol were regularly travelling to Iceland and it is speculated that sailors from Bristol had made landfall in the Americas before Christopher Columbus or John Cabot. After Cabot arrived in Bristol, he proposed a scheme to the king Henry VII, in which he proposed to reach Asia by sailing west across the north Atlantic. He estimated that this would be shorter and quicker than Columbus' southerly route. The merchants of Bristol, operating under the name of the Society of Merchant Venturers, agreed to support his scheme. They had sponsored probes into the north Atlantic from the early 1480s, looking for possible trading opportunities. In 1552 Edward VI granted a Royal Charter to the Merchant Venturers to manage the port. And by 1670, the city had 6,000 tons of shipping, of which half was used for importing tobacco. By the late 17th century and early 18th century, this shipping was also playing a significant role in the slave trade. In the 18th century, the docks in Liverpool grew larger and so it increased the competition with Bristol for the tobacco trade. Coastal trade was also important, with the area called "Welsh Back" concentrating on stone, timber and coal.
Finally in the early 19th century the harbour changed form thanks to the installation of lock gates on a tidal stretch of the River Avon in the centre of the city and the establishment of a tidal by-pass for the river; named floating harbour as the water level remains constant and it is not affected by the state of the tide on the river.
Nowadays the Bristol Harbour side has been redeveloped: new buildings have been built and some of the old buildings & warehouses have been converted into cultural venues such as museums (M Shed), art galleries (Arnolfini), art centres (Watershed), science exhibition centre (At Bristol), shops, pubs, nightclubs, fashionable apartment buildings and restaurants. Visitors enjoy the diversity of attractions and views along the very beautiful Harbourside.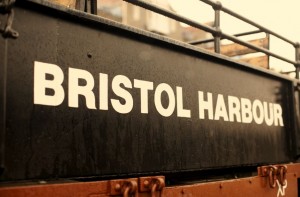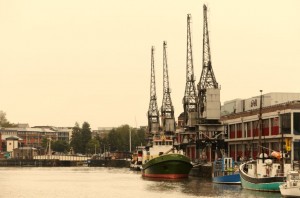 Here is a new English expression that we'd like to teach you:
If a person is Never Going To Set The Thames Alight they are unlikely ever to do anything impressive or notable, usually in respect of either their work or studies. Many believe the allusion here is to the river Thames but the root of our expression is actually a 'temse'. During the 1700s farmers used a tool called a temse, which was a sieve given to labourers or farmhands during the harvest months. Hard-grafting farm boys would joke with each other they had worked so fast their temse had caught fire. Equally, lazy scallywags
would 'never be able to set their temse alight'.
Thanks from the EC Bristol Team
Comments
comments