Hello Hello from EC Bristol 🙂
So, today is Pancake Day! did you know it? Well, now you do…!
If only we had a proper kitchen here at EC Bristol I would definitely be cooking now for aaalll the students (…more or less..). English style pancakes with maple syrup..oooyeh!
If you love pancakes as much as I do (a lot) check out this articles about…guess what…pancakes!
http://www.mirror.co.uk/news/uk-news/flipping-mad-ten-surprising-pancake-691954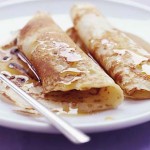 ha! have a good day everyone!
Fabi xx
Comments
comments