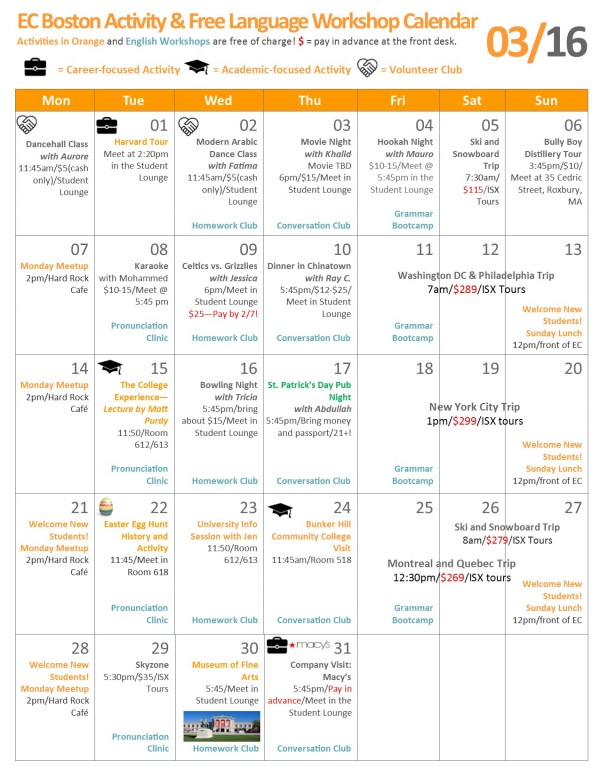 Hello, students!
Congratulations! You've almost survived another Boston winter (though this was a mild one, so you were all very lucky). With March approaching, we wanted to get you all prepared for all of the great events and trips that will be taking place next month.
As always, we will have trips to New York City and Washington D.C./Philadelphia. We will also have an overnight ski/snowboard trip at the end of March and this will most likely be the last one of the season, so if you're interested, don't miss out! We will also have a Montreal/Quebec trip March 26th-27th. See the front desk to see if you need a visitor's visa or not prior to making plans to go.
March is also a great time of year in Boston, because it is the month of the South Boston St. Patrick's Day parade! St. Patrick's will be a 4-day event this year as the holiday falls on a Thursday and celebrations will continue through Sunday's parade. EC Boston will be having an Irish pub night on Thursday and a group of us will be attending the parade on Sunday. Let us know if you would like to join!
Also, on the last day of March, we will have our second monthly company visit. Last month, we visited the start-up Drizly, which was a lot of fun and a huge success. This month we will be doing an hour-long educational tour of Macy's department store in Downtown Crossing. We will learn all about the founder of the store (who was from Massachusetts, by the way) and meet the store manager to ask questions about how the day-to-day operations run.
If you have any questions or suggestions about any of these activities, come speak with someone at the Front Desk or ask one of our amazing Student Ambassadors!
Have a great month of March!
Comments
comments