When students decide that they want to study English in the United States, they have many options to consider.  There are so many study abroad courses in the United States, and especially in Boston.  We're honored to welcome many great students here at EC Boston and are proud that these students choose EC Boston as their study abroad destination.
We're sorry to have to say goodbye to Mr. Edgar Camilo Cuadros, from Colombia.  Edgar has spent 6 months studying and living in Boston with us, and today is his last day.  Edgar started in the Low-Intermediate level and has worked his way up through various levels, just completing several weeks in the TOEFL preparation course.  He also acted as one of EC Boston's peer Ambassadors for other students.  Good luck to you, Edgar!
Please enjoy a special Goodbye Message from Edgar, below:
"At this time I have to say good-bye to EC Boston, but that is something that really makes me feel weird because for the last 6 months this used to be my life.  I want to share this experience which changed the way I see life and what I want to do.
When I just came to Boston it seemed to be like the most difficult thing I had ever done in my entire life, but it was not for a long time. Even though the first month was difficult, it was really surprising how my English skills were improving as quickly as I was making a lot of friends.  Most of them were from all over the world which means that each one has a different culture to learn about. By that time, old friends were leaving as new ones were coming, and it has been repeating again and again; that's cool, it is not a big deal to meet new people.
I never thought that I was going to get to all the new places I did; I traveled around all of the east cost of the U.S. from New Hampshire to Florida. As soon as I saw a weekend coming I used to plan how it was going to be like, sometimes parties with friends, other ones traveling around and a few times preparing for level tests.
All of those things made my life here, so now that I have only two more days to live this dream I just want to say thank you Boston and see you soon!"
Edgar Cuadros,
EC AMBASSADOR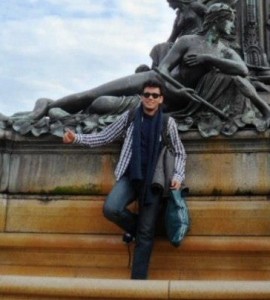 Comments
comments